Become a DISC Trainer ready to lead DISC Workshops for
work
team development
organizational growth
and more!
This kit will provide you with the tools to expand your understanding of the DISC Assessment and walk you through the process of leading your own DISC Workshop. It walks you step-by-step through trainings and exercises with notes and scripts to guide the way. The workshop utilizes the perfect combination of instructor led teaching and facilitation of engaging exercises that get participants up out of their chairs and actively learning — perfect for families, individuals, teams and entire organizations.
Your purchase includes:
Comprehensive outlines of each section
Scripts of what to say when presenting
Slideshow with animations (Keynote & PowerPoint)
Sample training schedules
Marketing material
Wholesale discount on participant manuals
Online access to additional resources only for Facilitators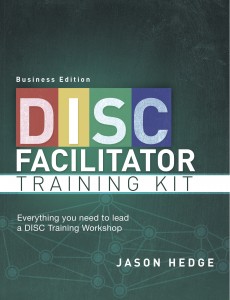 Training Topics includes:
DISC Basics
Unpacking DISC
The Drivers Lies & Emotions
Leadership Aptitudes
7 Interactive Learning Exercises
DISC Communication
Quick Reference Guide
Already purchased the DISC Facilitator Training Kit?